Genius clusters?
12th Jul 2016
I have been very lucky in my career in terms of the people I have met. Working in New York City in the early 1970s I was fortunate to meet icons like Larry Tisch, Barton Biggs, Marty Zweig, Ace Greenberg, etc. Regrettably, I have lost, and am losing, many of those icons. While working in Washington DC I used to have high tea at the Hay Adams with Jean Kirkpatrick; and at a black tie affair I talked with a gentleman I would have never thought I would like. He was from Massachusetts and was pretty left of center. I talked to him for over an hour and was struck by his witty brilliance. I told him he should run for President and a few years later he did. His name was Paul Tsongas. While I have met all sorts of folks over the years, one person I have not met is Peggy Noonan, the weekly columnist for The Wall Street Journal (WSJ). She is one of the best writers/thinkers I have ever read. She is wicked smart and scribes articles everyone should read. Roughly two weeks ago she penned a WSJ article titled, "A World In Crisis, and No Genius in Sight." The gist of the piece was about "genius clusters." Genius clusters have occurred at certain points in history with one of the best being the one that invented America. She writes, "Somehow Franklin, Jefferson, Washington, Adams, Madison, Hamilton, Jay, and Monroe came together in the same place at the same time and invented something new in the history of man." A little late in the article she opines:
There was a small genius cluster in World War II – FDR, Churchill, de Gaulle. I should note I'm speaking of different kinds of political genius. There was a genius cluster in the 1980s – John Paul II, Reagan, Thatcher, Vaclav Havel, Lech Walesa, Lee Kuan Yew in his last decade of leadership in Singapore. The military genius cluster of World War II – Marshall, Eisenhower, Bradley, Montgomery, Patton, MacArthur, Nimitz, Bull Halsey, Stilwell – almost rivaled that of the Civil War – Grant, Lee, Stonewall, Sherman, Sheridan, and Longstreet. Obviously genius clusters require deep crises, otherwise their gifts are not revealed. Historic figures need historic circumstances. Also members of genius clusters tend to pursue shared goals. We have those conditions now – the crises, and should be shared goals. Everything feels upended, the old order that has governed things for 70 years since World War II [is] being swept away. Borders have disappeared before our eyes. Terrorism, waves of immigration transforming whole nations, Islam at war with itself and parts of it at war with the world. In the West, the epochal end of public faith in institutions, and a dreadful new tension between the leaders and the led. In both background and foreground is a technological revolution that has actually changed how people experience life. It is a world crying out for bigness, wisdom, steady hands and steady eyes. We could use a genius cluster.
Did I forget to mention that Peggy Noonan is brilliant?! But, where is the genius cluster that we so desperately need? It certainly doesn't exist with the world's leaders. It probably exists with some of the world's military leaders; however, the politicians aren't paying much attention to their advice. Clearly the world's populations are seeking a genius cluster given things like the Brexit vote and the rise in popularity of Donald Trump. There is likely a genius cluster on the Street of Dreams, yet even here we see false prophets. I heard one of them late Friday afternoon on CNBC who has totally missed the rally off of the February lows and is currently calling this rally nothing more than a "bull trap." Be that as it may, there is a book written by Ned Davis that resides on my desk titled, "Being Right or Making Money," which is reminiscent of the quote, "Knowing and not acting can be as damaging as not knowing at all." I would rather make money than be right!
Plainly, we have been "acting" since the February lows, believing those lows represented a major bottom, setting the stage for a rally to new all-time highs; and, last Friday that vision almost came true. Indeed the S&P 500 (SPX/2129.90) closed the week within one point of its all-time high (2130.82 on May 21, 2015). My thoughts on this were best expressed by the perspicacious Jim Paulson in an interview on CNBC last week (as paraphrased):
Stocks should make new highs soon, closely followed strategist Jim Paulsen said Wednesday. He's the second market watcher this week to tell CNBC's 'Squawk Box' to expect a record run. Paulsen, chief investment strategist at Wells Capital Management, sees the S&P 500 going to the 2,200 level, an advance of 4.75 percent from Tuesday's close, which saw the index break 2,100 for the first time since December. The S&P 500 on Tuesday was also less than 1.5 percent from last May's record 2,130.82 close. Ebbing deflation fears, prospects for better earnings later this year and improving world economies are all reasons to believe U.S. stocks should climb, he said.
If that sounds familiar, it should, for I am the other person that has been calling for new all-time highs. So on the better than expected payroll number (+287k vs. the estimate of 180k), the SPX closed at a new 52-week high last Friday, causing my friend Jason Goepfert (SentimenTrader) to write:
"The S&P 500 closed at a new 52-week high. Using weekly closing prices, this is the first new 52-week high in 50 weeks, the 3rd-longest dry spell in 20 years. Going back to 1928, when the S&P sets its first 52-week high in nearly a year, it has led to mixed shorter-term returns but positive medium- to long-term ones."
Moreover, Friday morning the astute Bespoke organization noted:
With today's stronger than expected Non-Farm Payrolls report, the S&P 500 is on pace to cross above and close above the 2,100 level for the 25th time in its history (red dots in chart). Since it first crossed above 2,100 back in February 2015, this level has been quite a stubborn one for the market. For example, the S&P 500 has never closed above 2,100 for more than 14 straight trading days, and in each period where the index crossed and closed above that level, the median number of days it was able to stay above 2,100 was just two trading days (average 3.2 trading days, see chart 1).
Meanwhile, investors' bullish sentiment is low, cash levels in portfolios is high, the 2Q16 earnings bar has been lowered too much (down ~5%), ~65% of the stocks in the S&P 500 have a higher dividend yield than the 10-year T'note, and EVERYONE is defensively positioned. That defensive positioning has spawned a new acronym STUB (staples, telecoms, utilities, and bonds). Remember when the term FANG (Facebook, Amazon, Netflix, and Google) became lionized the FANG move was long of tooth. Most recently, it is bonds that are actually gapping to the upside in the charts (chart 2). Recall, it was Jim Rogers (co-founder with George Soros of the Quantum Fund) who when asked how he makes money replied, "I buy fear and sell greed." Then he was queried, "How do you determine when there is fear or greed?" He responded, "I wait until prices start gapping in the charts!"
The call for this week: I know it has been very easy to stay bearish this year given the constant bombardment of bad news, but my indicators, and the actual stock market, are telling us the resolution to the various economic/political messes is coming on the upside. Hence, I will leave you with this quote from my pals at GaveKal, "Most investors go about their job trying to identify 'winners.' But more often than not, investing is about avoiding losers. Like successful gamblers at the racing track, an investor's starting point should be to eliminate the assets that do not stand a chance, and then spread the rest of one's capital amongst the remainder." Or how about this one, "Manage money for the environment that you are in, not the one you wish you were in." Be bullish, my friends, be bullish . . .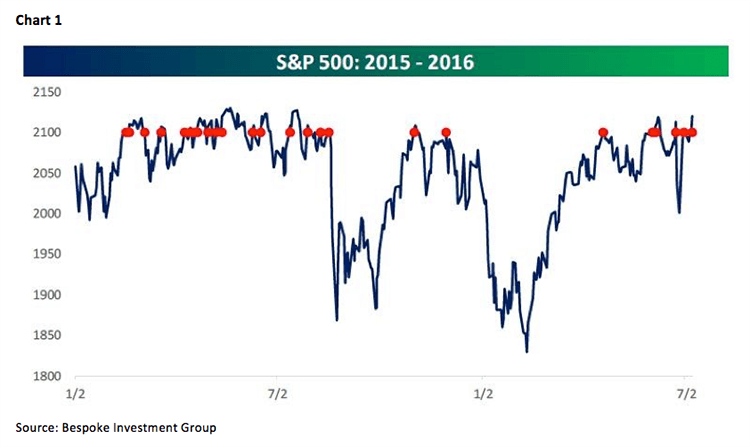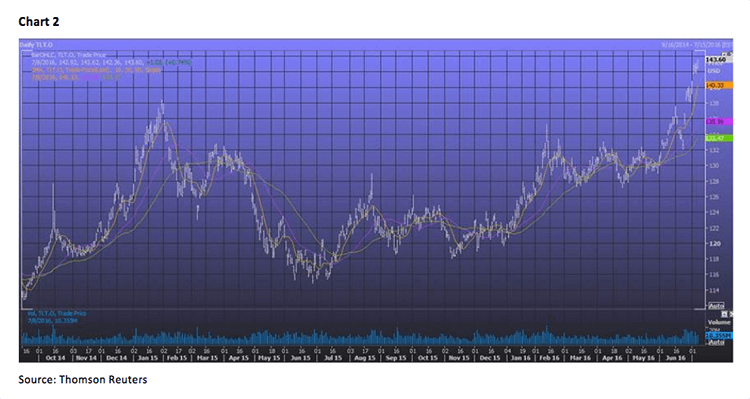 ---
Additional information is available on request. This document may not be reprinted without permission.
Raymond James & Associates may make a market in stocks mentioned in this report and may have managed/co-managed a public/follow-on offering of these shares or otherwise provided investment banking services to companies mentioned in this report in the past three years.
RJ&A or its officers, employees, or affiliates may 1) currently own shares, options, rights or warrants and/or 2) execute transactions in the securities mentioned in this report that may or may not be consistent with this report's conclusions.
The opinions offered by Mr. Saut should be considered a part of your overall decision-making process. For more information about this report – to discuss how this outlook may affect your personal situation and/or to learn how this insight may be incorporated into your investment strategy – please contact your Raymond James Wealth Manager.
All expressions of opinion reflect the judgment of the Equity Research Department of Raymond James & Associates at this time and are subject to change. Information has been obtained from sources considered reliable, but we do not guarantee that the material presented is accurate or that it provides a complete description of the securities, markets or developments mentioned. Other Raymond James departments may have information that is not available to the Equity Research Department about companies mentioned. We may, from time to time, have a position in the securities mentioned and may execute transactions that may not be consistent with this presentation's conclusions. We may perform investment banking or other services for, or solicit investment banking business from, any company mentioned. Investments mentioned are subject to availability and market conditions. All yields represent past performance and may not be indicative of future results. Raymond James & Associates, Raymond James Financial Services and Raymond James Ltd. are wholly-owned subsidiaries of Raymond James Financial.
International securities involve additional risks such as currency fluctuations, differing financial accounting standards, and possible political and economic instability. These risks are greater in emerging markets.
Investors should consider the investment objectives, risks, and charges and expenses of mutual funds carefully before investing. The prospectus contains this and other information about mutual funds. The prospectus is available from your wealth manager and should be read carefully before investing.